Hello,

I am Jim Hassett. I have been teaching here at Lakewood High School since the 1996-1997 school year. I teach mathematics and Physics. I earned a bachelors degree with a double major in Physics and Mathematics from Eastern Michigan University. I did my graduate course work at Central Michigan University, earning a Masters degree in Physical Education with coaching emphasis. I have taught Algebra 1, Algebra 2, Geometry, Pre-Calculus, A.P. Calculus, and Physics. Currently, I am teaching Algebra 2, A.P. Calculus, and Physics.

Currently I am the head coach of both the men's and women's Varsity Track and Field teams here at Lakewood. I have coached track since the 2000 season. I have also coached cross country for 17 years and wrestling for about 10 years.

When I am not coaching or teaching I enjoy coaching my kids sports teams, golfing, bowling, and playing board games. I enjoy watching movies, especially sci-fi, action, suspence, and horror.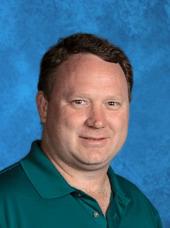 Mr. Jim Hassett

High School Mathematis and Physics Teacher

email: hassettj@lakewoodps.org