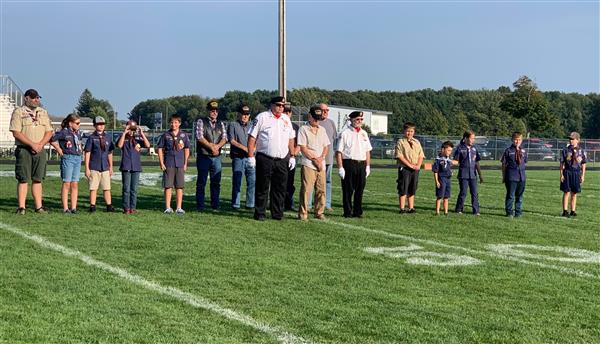 VETERAN OF THE GAME
Lakewood Public Schools
September 20, 2019
Mr. Lyle Sandbrook, Sr.
Korean War Veteran – United States Airforce
1950 - 1954, South Korea, England, United States

Mr. Sandbrook served in the United States Airforce in South Korea, England, and in the United States. He began his Airforce career in 1950, training at the military base in Cheyenne, Wyoming. There he gained expertise in the area of Military Communications using the Teletype, which was instrumental in relaying information during the Korean War. Because of his knowledge and skillful operation of the teletype, Mr. Sandbrook was called to organize, produce, and deliver vital classified administrative scripts for the United States Airforce. Mr. Sandbrook was deployed overseas to the North and South Korean border for top secret communications work that culminated from the Five Power Meeting of 5 presidents. Mr. Sandbrook was also sent to meetings in England. Mr. Sandbrook served in the U.S. Airforce until 1954.

Lyle Sandbrook Sr. attended Woodland School from 1st through 12th grade. After returning from the service, he and Jean, his wife of 60 years, raised two children in Lakewood where they still reside. For 20 years Mr. Sandbrook was the co-owner of Ken's Home Service, now known as Sandy's Plumbing. Mr. Sandbrook is a member of the Lake Odessa VFW Post and is a life-long member of our community.

Mr. Sandbrook, please accept a round of applause of thanks, from those you have helped to defend. We stand united with you. We honor your commitment and the sacrifices of all veterans, their families, and loved ones. Lakewood Public Schools will forever be grateful to Mr. Lyle Sandbrook Sr.