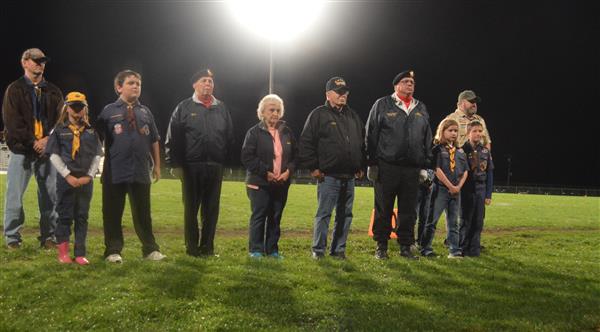 VETERAN OF THE GAME
Lakewood Public Schools
September 28, 2018
Mr. Leon Sutherland
Korean War Veteran – U.S. Army
1956 - 1962

Mr. Sutherland enlisted in the United States Army in November of 1956. After 8 weeks of basic training and 12 weeks of radio school, Mr. Sutherland served in Korea. He was assigned to an anti-aircraft artillery battery as a radio switchboard operator near Inchon. The following April, Mr. Sutherland was sent to Osan and became a courier driver from Osan to Seoul, five days a week. Mr. Sutherland served two-years active duty, followed by four years in the reserve, until 1962. Mr. Sutherland is the recipient of the Korea Defense Service Medal and the Military Achievement Medal. At the conclusion of his service, Mr. Sutherland lived and worked in Lake Odessa Michigan hauling milk, followed by a career working for Oldsmobile. He married his wife Gloria of 59 years, and raised three children in our community who attended Lakewood where he still resides.

Mr. Sutherland, we stand united with you. We honor your commitment and the sacrifices of all veterans, their families, and loved ones. Lakewood Public Schools will forever be grateful to Mr. Leon Sutherland.