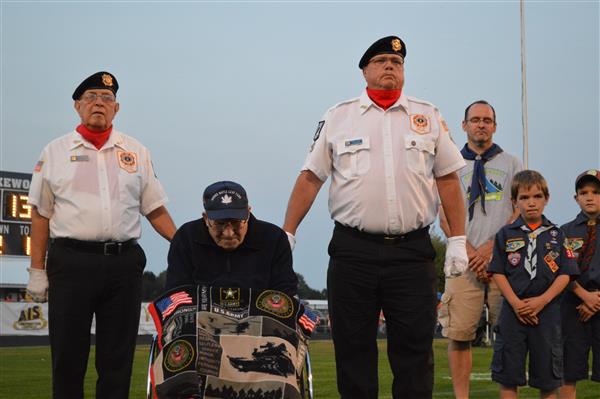 VETERAN OF THE GAME
Lakewood Public Schools
September 15, 2017
Mr. Frederik Morris
World War II Veteran European Theatre
D. Day Invasion

Fred Morris entered the United States Army Feb. 3, 1942. He served with the 819th Aviation Engineers Battalion, attaining the rank of Technician 5th Grade Corporal. He took part in the invasion of Normandy, Northern France, the Rhineland and Central Europe. Fred was awarded the World War II:

Victory Medal
The European-African-Middle Eastern Theatre Ribbon with 4 Bronze Battle Stars
A Bronze Service Arrowhead
6 Overseas Service Bars
1 Service Stripe
A Good Conduct Medal
Distinguished Unit Badge of 203rd HQ Ninth Air Force


He was discharged from the Army Nov.6, 1945 and returned to the states to fulfill his dream of farming in Lake Odessa, Michigan. He is the proud grandfather of 2 current Lakewood Viking athletes. Paden Morris and Patsy Morris. Mr. Morris, please accept gratitude from those you have helped to defend. Lakewood Public Schools will forever be grateful to Mr. Fred Morris.