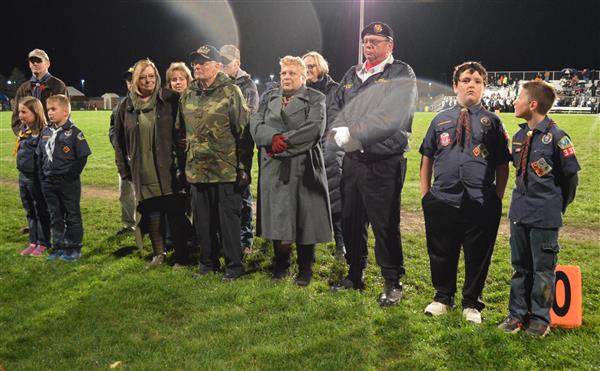 VETERAN OF THE GAME
Lakewood Public Schools
October 12, 2018
Mr. Martin Johnson
Korean War Veteran – U.S. Army, Company H, 11th Armored Calvary Regiment, 1st Calvary Division
1951 - 1952

Mr. Johnson began basic training at Camp Atterbury, Indiana and was deployed to Korea in February, 1951, passing through Tokyo Japan. He was assigned to Machine Gun Squad Company H, 11th Armored Calvary Regiment, 1st Calvary Division. Mr. Johnson worked through the ranks of ammo bearer, 2nd gunner, 1st gunner, to squad leader. He was transferred in 1951 to motor pool, driving jeep with a mounted 30 caliber machine gun, until the unit moved to Hokkaido, Japan. Mr. Johnson is the recipient of the CIB Occupation Medal (Japan), Korean Service Medal with 4 Bronze Stars, and the United Nations Service Medal. In a letter from the 2nd Lieutenant Mr. Martin was described as having excellent performance of duty, soldierly bearing, an outstanding member of his unit, a man of integrity and character. "This One is a Soldier."

Mr. Johnson was Honorably discharged in 1952 and served in the Enlisted Reserve Corps. For 5 years. He married his wife, Elaine, and raised 3 daughters who are Lakewood alumnus. He drove semi's cross country from 1952 – 1959. He was the owner of the Lake Odessa Bowling Lanes from 1959 – 1972.

Mr. Johnson, please accept deep appreciation from those you have helped to defend. We stand united with you. We honor your commitment and the sacrifices of all veterans, their families, and loved ones. Lakewood Public Schools will forever be grateful to Mr. Martin Johnson.