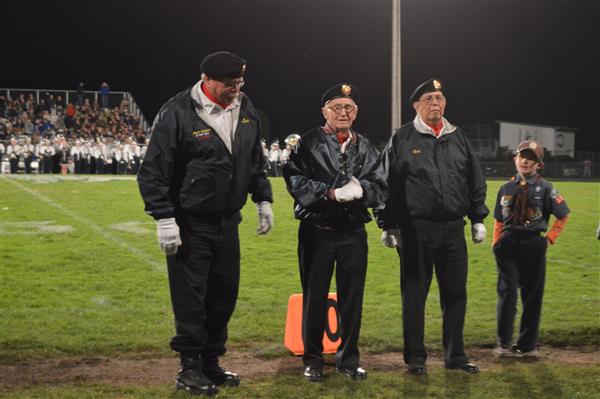 VETERAN OF THE GAME
Lakewood Public Schools
October 20, 2017
Mr. Bob Cross
Korean War Veteran – U.S. Army
7th Regiment Tank Company, 3rd Infantry Division


Mr. Cross was a student at Lake Odessa High School and lived on the Sebewa Farm in Sebewa Township. He worked at an Ionia furniture factory before he was drafted at age 20. Mr. Cross served in the United States Army from 1952 – 1954 with the 7th Regiment Tank Company, 3rd Infantry Division. Mr. Cross was Staff Sergeant and a decorated soldier, earning:

The Combat Infantry Badge
The Korean Service Ribbon
Two Bronze Battle Stars
United National Service Medal

After his service he returned to West Michigan and retired from General Motors with 30 years of service. Mr. Cross and his wife Judy have had 7 children who are graduates of Lakewood Public Schools. Mr. Cross serves in the Lake Odessa VFW Post 4461 Honor Guard and is humbled to provide military funeral honors for veterans.

Mr. Cross, we stand united with you. We honor your commitment and the sacrifices of all veterans, their families, and loved ones. Lakewood Public Schools will forever be grateful to Mr. Bob Cross.