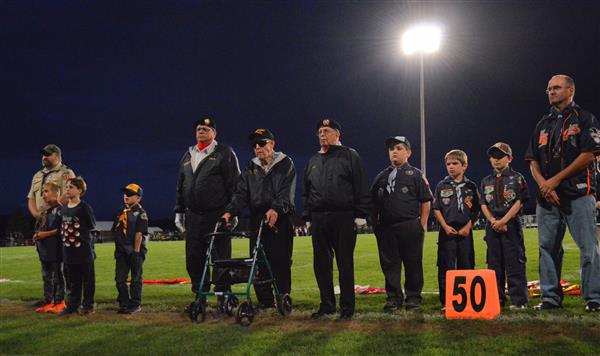 VETERAN OF THE GAME
Lakewood Public Schools
September 29, 2017
Mr. Donald Eckman
World War II Veteran – U.S. Army, B Company, 1st Battalion,
15th Infantry Regiment, 3rd Infantry Division


Don Eckman was born and raised near Lake Odessa Michigan. One year after high school graduation, he left the farm and enlisted in the United States Army in 1944. He served with the Company B 15th Infantry – Third Division. His unit was led by Audie Murphy, one of the most decorated American combat soldiers in war. Mr. Eckman feels privileged to have served with Audie Murphy and be able to call him a comrade. Mr. Eckman was also a decorated soldier, taking his own place in the military honor roll earning:

2 Purple Hearts for being injured in combat
The Bronze Star
Combat Infantry Badge
The Distinguished Unit Badge
The French Fourrayere
The 3rd Division Patch
French Legion of Honor medal, The Highest Award in the Nation of France

He was discharged from the Army on March 1, 1946, returned to West Michigan, and married his wife Adie. They raised 4 children. He worked for 35 years before retiring as a postal service rural letter carrier.

Mr. Eckman, we stand united with you. We honor your commitment and the sacrifices of all veterans, their families, and loved ones. Lakewood Public Schools will forever be grateful to Mr. Don Eckman.